Plečnik's Ljubljana: an Architect and his City
Ana Porok, curator of architecture and design
The architectural works and urban planning of Jože Plečnik make the capital of Slovenia a total work of art. It is one of those rare cities that have been so profoundly shaped by the work of a single architect. Plečnik's Ljubljana consists of a land axis and a water axis. The former leads from his house in Trnovo, across the Trnovo Bridge and up Emona and Vegova streets to the city centre at the Congress Square and Zvezda Park. The water axis consists of the interventions at the Ljubljanica River embankments, starting with the Trnovski Pristan embankment, the mouth of the Gradaščica stream, then continuing with the embankments of the Ljubljanica River in the city centre, the Cobbler's Bridge, the Triple Bridge, the Central Market and ending at the sluice gates. With the arrangement of the embankments and bridges, the planting of trees and other vegetation, which he understood as an important architectural tool, Plečnik gave the city on the Ljubljanica a Mediterranean character. When working on Ljubljana he enthusiastically studied antiquity and, through the use of redesigned classical architectural elements, created his own recognisable architectural language.
Plečnik gradually worked on his vision of Ljubljana over a period of more than three decades. He had entered an already built-up space, which he meaningfully remodeled and upgraded. Thus, between 1921 and 1957, he added a number of extraordinary buildings into the city's grid. For Plečnik, the idea of a city was that of a space for ceremonies, gatherings and contemplations on the past, which should also accommodate pedestrians. He understood his work as a continuation of the city's history and shaped Ljubljana so much that we can use the term Plečnik's Ljubljana, at least for this specific period.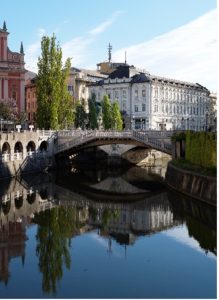 On 28 July 2021, the UNESCO World Heritage Committee inscribed the selected works of Jože Plečnik in Ljubljana on the World Heritage List. The inscription titled "The works of Jože Plečnik in Ljubljana – Human Centred Urban Design" encompasses seven parts: the city's water axis (the embankments of the Ljubljanica River with the bridges from the Trnovo Embankment to the Sluice Gates) with the Trnovo Bridge, the land axis (Vegova Street with the National and University Library, Congress Square and Zvezda Park), Plečnik's archaeological park (Roman Wall), the necropolis complex (Plečnik's Žale – The Garden of All Saints) and the churches in rural (St. Michael's in Črna vas) and working-class suburbs (St. Francis of Assisi in Šiška). All the works are marked by a recognisable architectural language, a disclosure of the city's context, the diversity of meanings and functions, the economy of interventions and, above all, by the human scale in which they were created.